You've read about our mistakes, our breakdowns, the moments when we doubted that an ice pop could be as glorious thing as I'd imagined when I first dreamed up 10,000 Licks. But we've had a flavor breakthrough, you see, and its name is Blackberry. Yogurt. Honey. Yeah, punctuated just like that.
I found the basic recipe on Smitten Kitchen, which is a site that you should be be reading rightthissecond if you, like me, enjoy big beautiful pictures of super tasty food almost as you like eating super tasty food. I have since discovered that the recipe, which originated in Bon Appetit, was actually developed by our quasi-competitors– People's Pops in New York City. Oops. Luckily, the thing that really rocked this recipe was the raw honey that Sarah Newberry brought from her aunt's hives in Canada. And that right there makes ours unique. More importantly, at this stage we're just practicing flavor and consistency, and anything that works now will be tweaked until it's both 1) irresistibly, addictively delicious and 2) uniquely ours and uniquely Minnesota. But on to the divine experience of making and eating these pops.
During our popsicle practice session, we tried out three recipes, and Patty was in charge of this one. She began by making a simple syrup (classic ice pop ingredient, I'm learning), and while that was heating up, she pureed the blackberries in the blender. (By the way, we'd considered just not even trying fruit recipes at this stage, since virtually nothing's in season–but upon reflection we decided it's best to get the recipes down now, and modify them later once we have awesome, seasonal fruit to work with. After all, if a fruit pop tastes good with Chilean blackberries, it's going to ROCK with the ones from my neighbor's yard).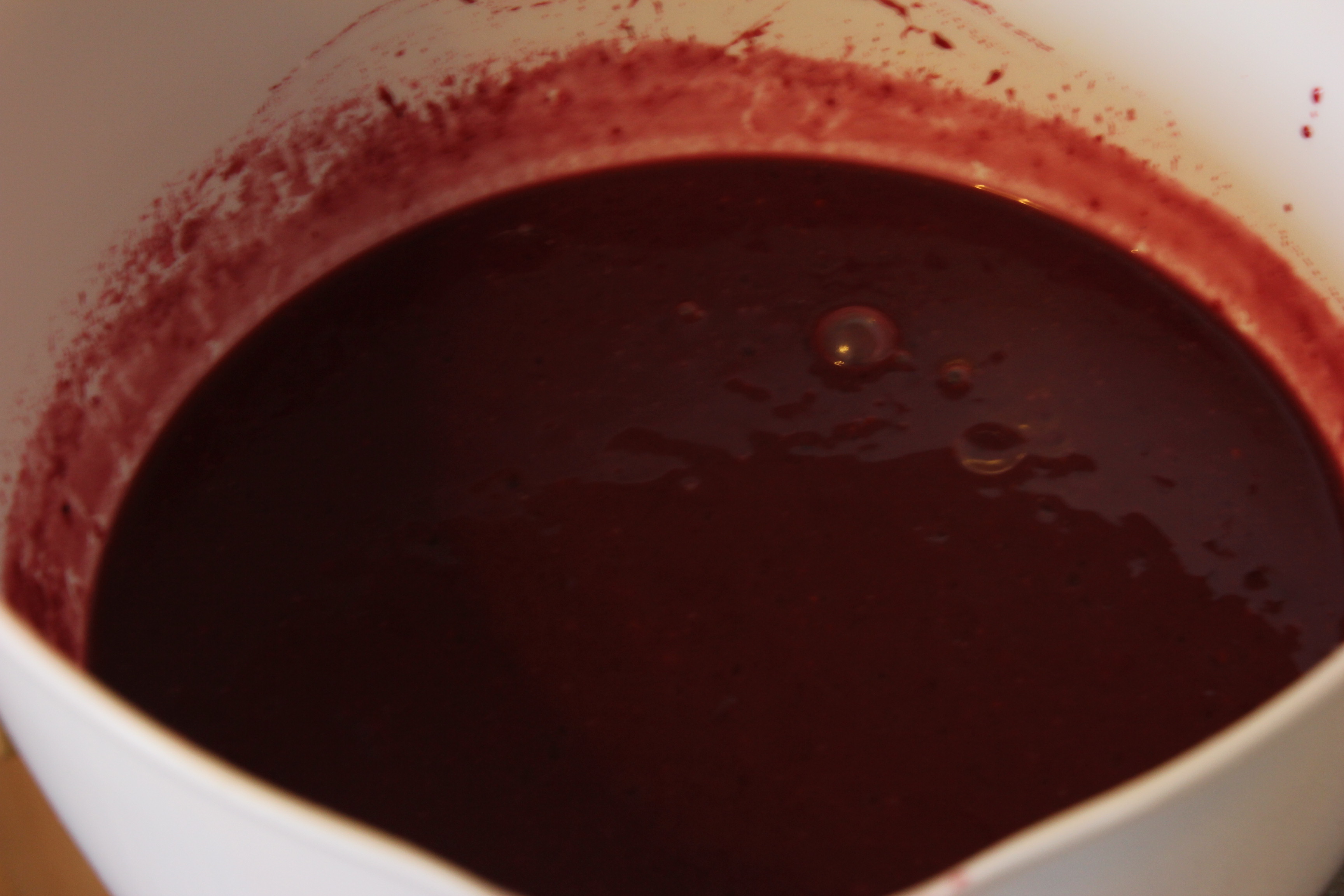 Once the berries were pureed, Patty smooshed them through some cheesecloth, which was the next best thing to a fine strainer (should probably buy one of those). Next, she combined 2 cups of that puree with lemon juice, honey, yogurt, and the now-ready simple syrup, and voila! They were ready to go in their molds.
By the next morning, these suckers were ready to be enjoyed. They were AMAZING. And I ate them near-daily until every last one was gone.
Next up: The ginger creamsicle pops- divinely delicious, though probably better as ice cream.