Blog

From Potlucks to Pop Luck
Okay, okay, so our Kickstarter campaign is over (complete with happy ending), but the life of 10,000 Licks is only just beginning. And since our fundraising success was a true collaboration between hundreds of backers, it seems only fitting to continue to acknowledge members of that critical mass.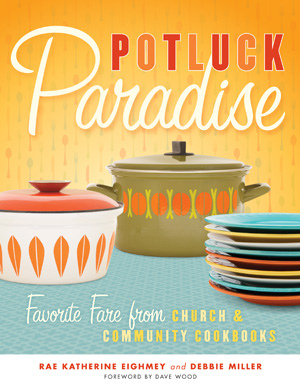 Rae Katherine Eighmey contributed early to the campaign– which was CRUCIAL for morale (mainly my personal morale, but still). This was at a point when we weren't sure if we'd ever clear $2,000. So! Imagine our jubilation when we saw her name pop up as a backer. Rae is a friend of a friend, and she's ALSO the author of numerous recipe and food books, Potluck Paradise being my personal favorite. In fact, while Rae did not realize this when she contributed, I actually interviewed her a year back for the radio series MN90: Minnesota History in 90 Seconds, about her book Food Will Win the War.
As for what made Rae want to support a local ice pop venture, I had to investigate further. So, I presented her with some hard-hitting questions. The revealing interview follows.
Andi: What made you want to support 10,000 Licks?
Rae: I supported 10,000 Licks because it is a very good idea with a smart business plan and a totally charming brand personality. It takes a lot to make a successful business thrive. Just having a good idea isn't enough. You and Sarah have done a remarkable job thinking through the product and ways into the marketplace to give adults (and savvy kiddos) a taste of the best of farm-fresh and childhood all rolled up into one refreshing treat. Just the name is revitalizing!
Andi: Do you believe that farm-fresh popsicles can make Minnesota a better place?
Rae: Well, it is hard to make Minnesota better. But, then, being Minnesotans we would never admit that. Any product that can capture the delight of farm-fresh ingredients and bring them to refresh city folks is a grand idea. AND that you have to eat each of these delicious flavors slowly lest you get brain freeze gives the opportunity to savor all that makes our state a great place.
Andi: If you were an ice pop flavor, what would you be?
Rae: Rhubarb lemonade with just a hint of ginger.
Andi: That sounds delicious! What's your favorite thing about Minnesota in the summertime?
Rae: I guess I have two things – the magic of long hours of dawn and twilight when the day creeps awake before 4 and lingers until after 10. And the kaleidoscope of changing fresh flavors. Every week there is something coming on fresh at the farmers market and yet there are foods that have finished up. Summers bounty is transient and it is nice to see – and eat – the ever-changing best of the best.
Thanks again, Rae!