Blog
Go, Ice Pops, Go!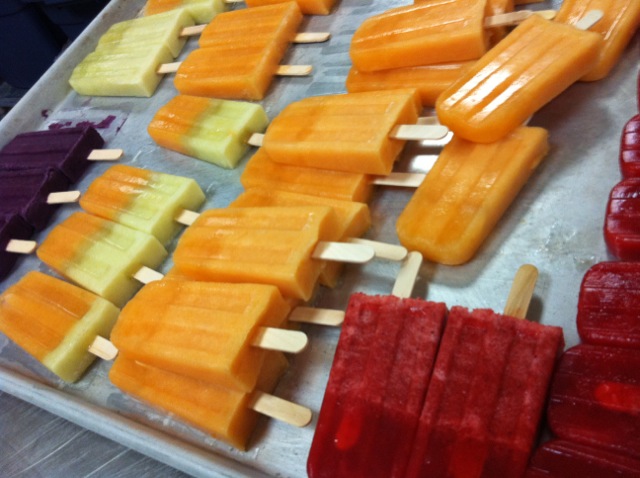 I think I get it now, how parents must feel, sending a kid off to school for the first time. Waving to the bus… a single tear…
Okay, that's not true. I don't get that yet at all. But I do feel sentimental, and so excited, today at the prospect of introducing our lovably handcrafted ice pops into the world tomorrow. Four months ago, 10,000 Licks was still just an idea, its execution doubtful, our test pops inedible, and the idea of actually cranking out 160 of these mythical perfect farm-fresh ice pops a strange fiction. And now, after so many hours chopping cantaloupe, countless blueberry stains, nightmares of getting stuck in traffic with ice pops melting in the trunk, we're ready to have some folks actually try these suckers. How, exactly, did that happen? And why?
When CBS Local interviewed Sarah and me a few days ago (we'll link to that when it's live, don't ya worry), the reporter asked why we've stuck with this idea–what's made us go from scheming to actually maybe-sort-of pulling this off. And while we came up with some thoughtful responses, privately I'm still not sure of the answer. Because it's been so much fun, I guess. Because it's been the greatest adventure yet. Because once we had the name for this crazy venture, there was no turning back. Or maybe it was the LLC that made it official? Or the license from the city? Hard to pinpoint when exactly the, uh, birth, took place.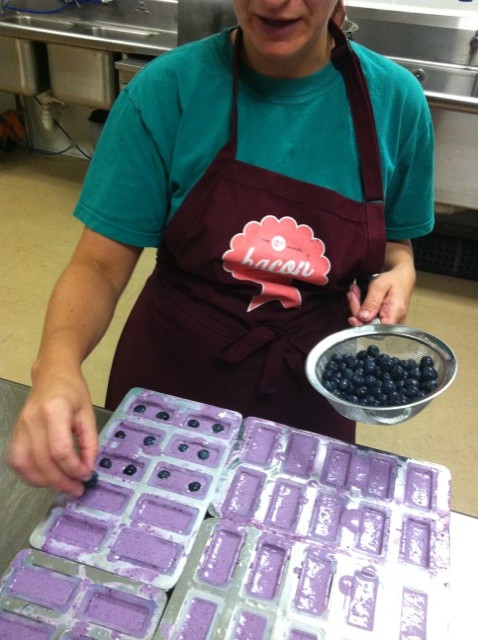 A friend asked me yesterday how I'll define "success" at the farmers' market this weekend. I told him I'd be happy if 1) Our pops don't melt (until they're being eaten) and 2) We sell out. That would be amazing! But in truth I'd settle for something simpler. Success, in all honesty, is the fact that we're going to be there at all. It's the fact that we've made something, something we believe in and love (and consume in large quantities) and that we're going to introduce it to the world. It's a risk, for sure. And how often do you get the opportunity to take one of those?
Have a great day at school, little pops.